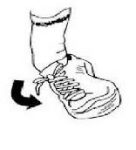 There are larger health benefits of Bagua training that I cannot imagine being obtained any other way. I am not talking about health from seemingly mystical sources, but rather simple everyday preservation of health in the course of living one's regular life. This was brought home to me the other day in an obvious way.
I was on a sidewalk, walking back to where my car was parked after class that other day, somewhat busy thinking about my next appointment. I was not really paying attention to where I was stepping since it was after all, a smooth sidewalk. I came to a spot where I turned from the sidewalk to an entrance ramp to the parking garage. As I stepped onto the ramp, my right foot landed on the outer edge and I experienced what so many have. My foot slipped off the edge, bent inwards with the ankle bent outwards. You all know the usually result of this moment, a sprained ankle! Read on…..
What I describe here happened in one moment, literally in the time it takes to turn your ankle. My weight was on the right leg as I stepped and I felt the foot bent and that sudden drop as the ankle bent. At the same moment my body weight shifted to my left foot automatically and I simply continued on to the next stride. There was no sprain, not even a feeling of having pulled anything in my right ankle, even though it had clearly bent. I continued walking with a feeling "whew, that was close". Then I started to ponder what had happened and what I felt my body did.
When there was almost no support in the right leg due to slipping off that sidewalk edge, my body weight automatically shifted and sank to the left leg. This sinking sensation is exactly what we practice in Bagua and I am convinced that it was the practice that saved my ankle.
We practice this controlled walking with the weight sinking and shifting from foot to foot as we walk. So when my body felt that lack of support on the right foot, it instantly moved to the left one. This happened because I have done this repeatedly for years. I cannot imagine any other exercise that would've achieved this result. It was the habit of controlled weight shifting that saved my ankle and that is only obtained by practice that way of walking.
As I sit here with no lingering effect of having turned my ankle, I can only say "thank you Baguazhang!"
Source: Toronto Bagua