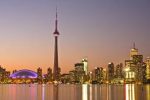 Yesterday we started our new monthly class in Toronto. This class is offered mainly for those who are unable to attend the weekly classes and is an extension of the periodic sessions we were offering previously. These sessions happened infrequently and each time there were comments about the value of them, especially for those who love Bagua but have a long way to come and get together. Hence, the new monthly class.
It was a great start! Participants came in from Hamilton and Mississauga as well the Toronto folks. As the sessions are 3 hours, we were able to linger over each part of the program and delve deeper into it. So we practiced sitting, standing, moving, etc. longer that we would in a regular class. Also, we were able to focus on a couple of principles connecting the program together.
This time we focused on "whole body power" and specifically how the idea of release (sung) and the ridgepole function within it. We played with partners trying to prevent movement by holding onto a partner's shoulders and experimenting with moving the entire body as a unit as compared to trying to wrestle out of someone's grip. We had one person stand in the Void while four others pressed in from all sides, then see if he could move them using the whole body. It was so cool to watch the look on their faces when it worked with such little effort!
Of course we walked the circle and practiced the direction changes. This is such a dynamic exercise with so many layers and ways of playing with it. It is the signature practice of Baguazhang and my personal favourite solo practice.
Finally, I broke the group up into skill levels so the last section of the afternoon could be devoted to martial partner work. The newer students focused on the essentials of our Willow Bends push hands game, while the more experience ones played with martial applications.
I must emphasize that word "play". The entire afternoon was fun while being informative. The idea of helping each other learn is a big part of our school and I was gratified to see everyone there embrace this idea. We laughed, we worked, we questioned, we discovered. In other words – everyone learned something while enjoying the process. What more can one ask for?
If you want to attend the next monthly class, please click here.
Source: Toronto Bagua